3 Things to Know About BabyNet in South Carolina
August 19, 2020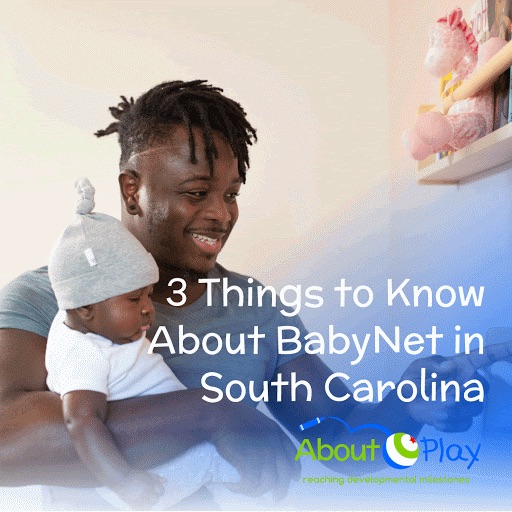 From the very moment that babies come into this world, they begin to learn. Each new experience offers a child with some insight and helps develop their instinct, behavior, and attitude. From birth up until five years of age, it is critical to hone the child's brain to set them up for success. 
However, there are circumstances wherein extra help and resources are needed to help a child blossom in terms of social skills, cognitive abilities, and emotional intelligence. For children with developmental delays and disabilities, it can be quite challenging to acquire necessary life skills and achieve milestones. 
Fortunately, BabyNet in South Carolina exists as an effective early intervention program tailored for infants and toddlers with disabilities and developmental delays who are under three years of age. BabyNet is supported by the Individuals with Disabilities Education Act (IDEA) Part C program, which aims to help children with developmental delays and their families. 
Here are three very important things to know about BabyNet in South Carolina.
1) Who is Eligible?
To become eligible for BabyNet services, the child must be diagnosed with a condition that causes developmental delays or has a condition that will likely lead to developmental delays. 
The child has the right to be promptly examined and evaluated to determine his/her eligibility for BabyNet services. The primary caregiver shall incur no cost from this thorough assessment by experts.
The child shall be deemed to have a developmental delay if, upon careful assessment, they are determined to be behind other same-aged children in certain milestones like learning to walk, their speech, critical thinking skills, social skills, and even physical factors such as height and weight. BabyNet considers significant developmental delays to be at least a 40% delay in one developmental area, or delays of at least 25% in two or more developmental areas. 
Like we stated earlier, BabyNet also grants an eligible status to children with an established risk condition. Meaning, although minimal to no evidence of developmental delays are apparent at the time of evaluation, the risk is still considered significant. Some examples are conditions stemming from genetic and neurological disorders, hearing loss and vision problems, and autism.
If for any reason, the diagnosis or the eligibility evaluation results do not meet the needed criteria, there can be an Informed Clinical Opinion (ICO) category in order to obtain eligibility.  Parents will have to give consent for BabyNet to obtain documentation (i.e., medical records, therapy records) that can then be used to determine eligibility. 
2) What Are The BabyNet Services In South Carolina?
Exclusively for children with developmental delays under the age of three, BabyNet offers services to the child and family and provides resources to address the delays and/or disabilities. 
The services are tailored for the child's specific needs which are created by experts at BabyNet with helpful input from family as well. 
Under BabyNet, the child is entitled to:
1. Service Coordination - BabyNet Service Coordinators will assist families in accessing early intervention services as identified on their child's Individualized Family Service Plan (IFSP). This may include making referrals for needed services such as preschool transition, evaluations for physical, occupational, or speech therapies. All BabyNet eligible children are entitled to Service Coordination for the provision of their early intervention services. 
2. Family Training/Special Instruction -  BabyNet eligible children are entitled to home visits to assist the family and caregivers in better understanding of their child's developmental delay(s) or disability. This may include assisting the family and caregivers with enhancing the learning environments and activities to promote their child's acquisition of skills. Early Interventionists will plan materials, interactions that lead to achieving outcomes as listed on each child's IFSP. 
3. Speech, Occupational, and/or Physical Therapy -  When identified, the BabyNet Service Coordinator will arrange for an evaluation and intervention services for therapies to include speech, occupational, and physical as appropriate for each child. Qualified professionals will work with those children that qualify based on his/her evaluation for any therapy service once added to the IFSP. Therapists will assist the family and caregivers in adapting the environment, implementing a home program, and designing therapy services for the rehabilitation and prevention of delays in the development of respective domains of development. 
These are just some of the services covered by BabyNet. Under this program, the child is also entitled to Nutrition services, Psychological services, Social work services, Vision services, Assistive Technology, and Autism services.
The Role of BabyNet's Intervention Team
BabyNet in South Carolina will have the tools and support families need to be the best teachers and carers for their children. It will optimize the child's interests as well as that of the carer to provide the best intervention possible.
BabyNet will help strengthen the partnership with parents and other caregivers so that the child feels supported. The BabyNet intervention team will hone home activities designed to meet the developmental needs of each child as identified by the IFSP team. The IFSP team will concentrate on enhancing and engaging the child's participation in critical childhood experiences as well as the community. Some of the areas that might be addressed would include physical development, cognitive development, communication, self-help, and/or social-emotional development. 
We would love to hear from you! Please contact us with any questions, comments, or ideas you have.
"*" indicates required fields